There's nothing like enjoying the view of your own backyard while relaxing and taking in all the beauty and wonder that spring has to offer. However, to fully enjoy such beautiful views of your backyard, you'll first need to get to work designing, building, and maintaining your home's decking
Attaching a luxury deck to your home might sound like a difficult task, but it doesn't have to be. Adding decking to your backyard can be a simple and stress-free process - when it is done right.
If you're thinking about adding decking to your outdoor space, the most important thing to do first is to plan everything. Your backyard is just like any other space in your home. It requires careful renovation planning to create something truly unique for your space.
Today we will show you the best way to plan your decking and railing renovation. We'll also show you the best options to upgrade your outdoor space.
How to plan your outdoor living renovation the right way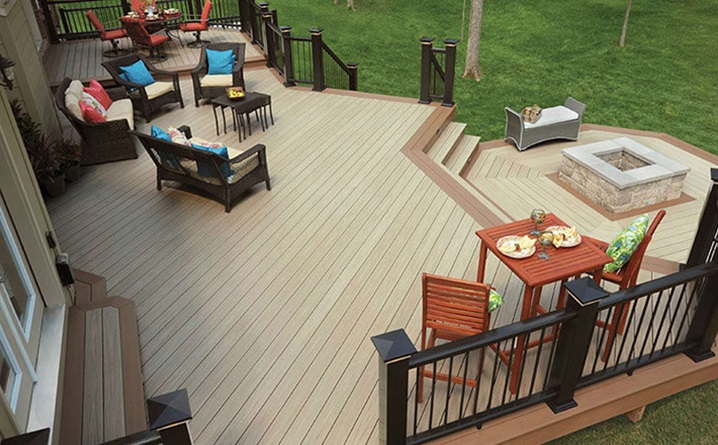 Planning your outdoor-living renovation is key to a smooth renovation process. If you know what you want and plan it out properly, you'll be able to have a stress-free deck and railing installation.
The first thing you should do is create a list of all the furniture and outdoor appliances you'd like to fit on your new deck. Maybe you're looking for a lovely table that will fit on your deck for a group of people along with a grill area, comfy outdoor couches or sun loungers. If you love to entertain friends and family, then a large decking space that fits a fire pit, outdoor kitchen, or even a hot tub would be a fantastic addition to your home.
On the TimberTech website, you can use their online design aid. It allows you to completely design your decking digitally so you can see what it'll look like and how much space you'll need for all your furniture. This is such a valuable tool to utilize when you're trying to figure out what you want to use your decking for. Plus, it'll make planning your build a whole lot easier.
Don't forget to factor in the size of your home's backyard, too, as this will influence the size and shape of your deck. You should also take your backyard's orientation to the sun into account.
For example, if you love to host barbecues and entertain on the deck with southern or western exposure (sunsetting), you'll want to add shade protection like a pergola. Pergolas are a great way to provide some sun blocking.
What type of decking should you choose?
Most homeowners won't have the time to power wash, stain, and seal their pressure-treated lumber deck every few years. But it is highly recommended that your decking be maintained regularly.
Pressure-treated deck surfaces can and will splitter and deteriorate after a short amount of time - especially if they're not looked after. So, if you've going for this type of decking, be prepared to do maintenance every other year.
Vinyl-wrapped composite decking, on the other hand, provides a lifelike 'real wood' feeling that will last many years. It also has the color and appearance of wood but doesn't need very much maintenance.
Many of our customers ask for grey-colored decking if their home is white, silver, or black. Homeowners will often choose a brown or beige decking for their backyard if their house siding is colored brown or wooden.
What kind of railing should you build?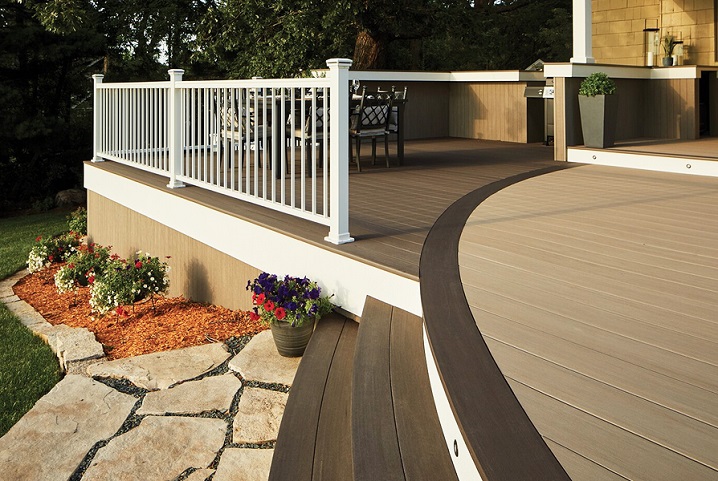 When choosing the right railings for your decking, there are many options to pick from, but we love wrought-iron railings. Wrought-iron railings weren't so popular for a while but now they're back - and they're here to stay.
American homeowners are starting to go for a more contemporary look when it comes to the style of their rails. They're opting for horizontal and vertical stainless steel cable railings, which are designed to give any decking a fresh look. The great thing about this style of railing is they're easy to maintain, and they give you a better view of your backyard. They're also perfect for blending in with the surrounding landscapes.
Composite railings and spindles are also a fantastic choice, but they look better on more traditional styled homes like colonial or victorian houses. The number one thing to consider when choosing the perfect style of railing is whether it matches the style of your home's exterior trim.
Should you add lighting to your deck?
Adding lighting to your deck is a fantastic option that will give your outdoor decking that extra bit of personality.
Low-voltage stair riser lights, post lights, and accent deck lights look beautiful and keep your deck safer. Lighting adds to the ambiance and helps extend those summer nights, allowing you to host some wonderful night time get-togethers for your friends and family.
Exterior lighting is easily controlled manually or automatically with a dusk-to-dawn power pack. This gives you the ability to adjust your lighting however and whenever you like. Homeowners are looking to get outside again, and with excellent products that are easy to take care of, won't fade, and look great on your home – now is the time to update your yard and give it the luxury feel you've always wanted.
The Fitch Design Studio has over 35 years of remodelling experience and works with some of America's most popular and enduring home brands. The Fitch Team are Gold Dealers with TimberTech Decks and Railings, and we always get the best deals possible for our clients.
If you want to upgrade your home with a brand-new decking and railing, contact our team in Rochester and Finger Lakes areas at (585) 377-3330 or in Buffalo at (716) 919-3330.
How to plan your outdoor living renovation the right way