Sunroom & Deck Partners

As an independently owned and operated Four Seasons Sunrooms retailer, Fitch Construction offers magnificent year-round living with sunrooms, solariums, and conservatories that are now backed by Four Seasons Sunrooms' lifetime limited warranty.

Four Seasons Sunrooms and Fitch Construction's philosophy is simple: make efficient use of high-quality materials and production methods to deliver optimal product value. With Fitch Construction's decades of experience designing, selling and installing screen rooms, sunrooms, and conservatories, you can be confident in our products, skills, and expertise,

The Four Seasons product line of sunrooms, conservatories, and patio enclosures have withstood the test of time in hundreds of thousands of residential and commercial installations globally. At Fitch Construction, we are committed to delivering year-round room additions of superior quality and value to our customers.
Fitch Construction has decades of experience designing, building, and servicing Four Seasons products. Fitch Construction is dedicated to providing first-class customer service and ensure your peace of mind.
Expert Sunroom Design Consultants
The design consultants at Fitch Construction have completed Four Seasons on-site factory training, combined with field expertise, to ensure your expectations will be met or exceeded on every project. Fitch design consultants are happy to meet with you in your home or at our showroom for a completely free, no-obligation consultation.
Top Quality Installation Crews
Fitch Construction's installers are trained by the Four Seasons Sunrooms team. This training guarantees the installation will be a fast, efficient and trouble-free.
Industry-Leading Product Warranty
Four Seasons Sunrooms is so confident in its products that it offers and backs an industry-leading Lifetime Limited Warranty on all its year-round room additions. Four Seasons glass technology is so advanced that it warrants a 100 percent guarantee against seal failure and even breakage for a full 20 years.
AZEK/TimberTech Products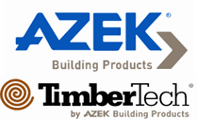 The year was 2001. The goal was to conquer one of the remaining areas of the home that didn't have a low maintenance option, the exterior trim. Through ingenuity and perseverance, the team of engineers at AZEK reinvented their cellular PVC formulations to create a product that would mimic the look of traditional wood trim without the upkeep of wood. And so, AZEK Trim was born and quickly began gaining market share as a better trim solution.
Steady growth
After several years of steady growth, AZEK expanded into the adjacent category of AZEK Moulding, with the launch of 16 popular moulding profiles in the Spring of 2007. Later that year, AZEK Deck was introduced to the market. Already established in the market as the premier cellular PVC decking, AZEK Deck swiftly grew into a leading brand within the entire alternative decking market and remains a market leader today.
Building on success
Building on that success, in 2008, AZEK introduced AZEK Porch, a traditional tongue and groove product made using the same proven formulation as AZEK Deck. The next year, AZEK expanded their outdoor space portfolio with the addition of AZEK Rail. These three premium railing products were designed to complement AZEK Deck and AZEK Porch
Over the next few years, AZEK Building Products gained market share across all categories thanks to product innovation, proven performance, and brand loyalty. In 2012, AZEK once again embarked on market development with the introduction of AZEK Pavers, the most advanced composite paver, made of up to 95% recycled content (scrap plastics and tires). But the innovation for AZEK wasn't over.
Driven by passionate customers who look to AZEK for superior building products, AZEK Siding was rolled out in 2016 after three years in the making. AZEK Siding, the first reinforced polymer composite siding, offers outstanding benefits that outperform traditional siding options.
So, what's next? Who knows. But one thing is for sure; if it carries the AZEK name, expect a product packed with unsurpassed quality, cutting-edge innovation, and superior performance.
AZEK - 100% Smarter Than Wood™