Skylights, Windows & Doors Planning
When deciding to remodel your home or add on a room, it takes time and planning. Focusing on the details including the addition of skylights, windows, and doors will improve the outcome.

The first step is to meet with a Fitch Design Consultant at your home. There will be a number of important items to discuss and key questions to answer before moving forward. The best part is there is no commitment required.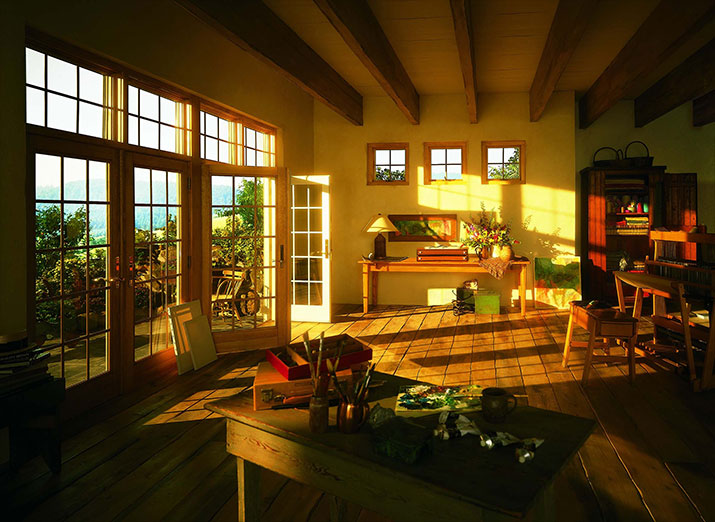 What can we do to increase our home's natural light?
Many houses have rooms or hallways where daylight is limited. Skylights are a wonderful mechanism to bring natural light into the darkest and most isolated spaces. A skylight or sun tunnel that passes from roof to ceiling can spread a soft and restful light throughout a room. By working with Fitch Construction, an authorized dealer and installer of VELUX products, we identify the best solution and products to bring sunlight into your home.
100% of the construction process is managed by Fitch
Often homeowners worry about their home remodeling project. At Fitch Design Studio, we are responsible for the entire process from the design through the final day of construction. With our team of more than twenty talented staff and being an authorized VELUX and Andersen dealer, there is an expectation to supply quality materials and craftsmanship, which we have provided in the community for the last 30 years.
Is the work covered by a warranty?
In New York State, home improvement law requires contractors to provide a one (1) year labor warranty on all work. At Fitch Design Studio, we believe in the quality of our work. On all VELUX Skylights, Suntunnels and roof windows, on top of the manufacturer's warranty of twenty (20) years on the glass and ten (10) years with the parts, Fitch Construction provides a lifetime warranty on the installation workmanship. On other type of project, we provide a five (5) year limited workmanship warranty, which is longer than the one (1) year required by law by the State of New York.
Are you ready to take the next step?
We would like the opportunity to sit down, discuss and turn your dream of new skylights, windows or doors. Call us at (585) 377-3330 or submit your information request form to set up an appointment.
The Power of Visualization
One of the most convincing arguments for incorporating skylights into a home is seeing the difference natural light from above makes. But without the right tools, it can be hard to visualize exactly how daylight affects a space. Three-dimensional renderings, are the perfect way to showcase the dramatic, transformative power of skylights.
See the Difference for Yourself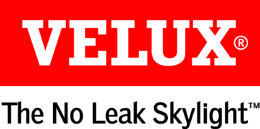 Based on the plans for the home you are building, our Design Center uses variables like location, orientation, time, and daylight levels to create an accurate simulation of what your design would look like with skylights. Even if your model home is already built, we can still provide renderings on a motion-triggered digital picture frame to help you upgrade the natural light levels in your home.
3D renderings are valuable not just for showcasing increased natural light, but for highlighting the other benefits skylights provide, too. In the rendering of the bathroom above, for example, potential homeowners see a brighter bathroom that doesn't sacrifice privacy the way a vertical window would.
Before & After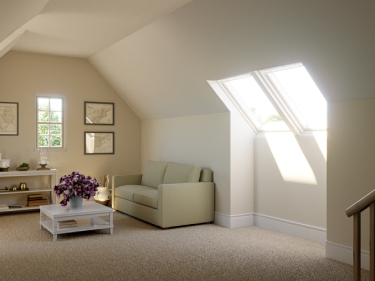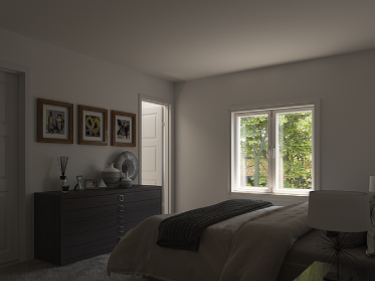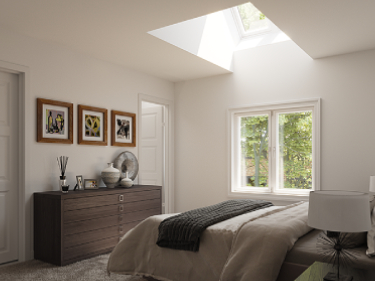 "Estimate to install (the sun tunnel) was a very easy quick process. Everyone was friendly and efficient and we are so happy to have our light so fast. It was wonderful service!!!" ~ Victor, NY (June 2017)
*All trademarks are the property of their respective owners: VELUX, VELUX America, VELUX USA, Andersen Corporation, and Sunrise Windows LTD