Fitch Basement Finishing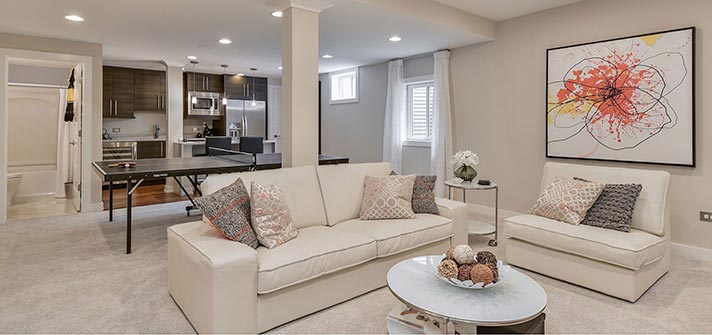 PLANNING YOUR BASEMENT
We hear it all the time…"Help! My Family's growing, the Kid's toys are taking over and We Need our own space or a Playroom for the Kids!" or we hear "…I would really enjoy my own Home Gym, Entertainment Room or Home Office." Whatever the need or want, finishing a part of your Basement is the most cost-effective way to improving your home and your Lifestyle.
Think about it – You already have the basic structure (concrete walls & concrete slab)…right, we just need to "finish" them. The Fitch Design Team & Basement Finishing Contractors strongly believes that keeping some of your Basement unfinished for Storage, the Home's Heating & Mechanical systems and just 'Stuff' that you store in your Basement is important. However, the Basement is an ideal place to carve out that needed extra Bedroom or Arts & Craft Room - for a lot less money than adding on a full Room Addition.
The 1st step to creating your finished Basement is the Design and how you will use the added space. The Fitch Design Team offers fresh design ideas to make that new space functional, look great and connect well to the rest of your Home. We utilize state-of-the-Art Computer Drawings to show you how your new Room will look…and best of all it's Free! We've been creating beautiful basement spaces in the Rochester, Buffalo and Finger Lakes areas for over 32 years.
Our customers are amazed and pleased when they see their new dream Basement right on our Fitch computer screen, and it's really fun too! Where to put that handy closet, what are the dimensions of a standard Queen-sized bed and how much space do we need for the Entertainment & Game Room ? … we can answer all these questions and more.
INVESTMENT & BUDGET
According to Cost vs. Value, for the Rochester & Buffalo areas, adding a finished space in your Home's Basement adds about 65 to 70% return on your investment after only the 1st year. Do the math, if your Home is worth $250,000 now and you invest $25,000 in a new Basement Family Room - your home could be worth about $270,000 a year later and in ten years your home could be worth $370,000 !
For the Western New York region, the average budget to creating your basement can range from $50 to $80 per square foot. When we add a Half or Full bathroom, wet bar and beyond, the investment can climb to $120 to $150 per square foot. Our clients control the price by determining the size of the basement to finish and the features that go into it.
The BUILDING CODE
The New York State Building code was created to protect residents and their families and at Fitch Basement Finishing, we are committed to your safety. Some of the key challenges are ceiling height, 2nd way of getting out of the basement (just in case) and smoke detectors. The same residential building codes for the 1st and 2nd floors of your home also apply to finishing your basement. We can also talk to you about the Electrical code - such as number of outlets, types of lighting, as well as heating your finished basement rooms. Fitch Basement Finishing takes care of all of the Building and Electrical Permits.
CREATING A HEALTHY SPACE
Let's discuss some other important issues in your basement like controlling water vapor and condensation issues or cleaning the inside air from mildew, dust mites and more. The Fitch Design Team has created some simple, yet functional Rooms to very extravagant lower levels with a 2nd Kitchen, elevated movie theaters and professional grade workout Gyms, even full luxurious bathrooms.