About Fitch Construction
Fitch Construction, Inc., is a full-service Remodeling and Design company offering America's most trusted home product brands. We service the Greater Rochester, Buffalo and Finger Lakes region. We specialize in replacing your windows and doors all the way to adding that sun-drenched room addition that you'll love to relax in. Our customers tell us they love our Basement Finishing, Kitchen and Bath remodeling too.
Fitch Construction is honored that our customers have given us an A+ rating with the Better Business Bureau. Fitch has won the Better Contractors Bureau "Award of Excellence" for our remodeling business practices. Our customers enjoy peace of mind with our five (5) year workmanship warranty and transferable lifetime warranty on our skylight and sun tunnel installations.
Fitch Construction's president David Cerrone is a Certified Aged-in-Place professional with the National Home Builders Association, became a Certified Remodeler in 1991 and has several 1st place National Sunroom Association Design Winners.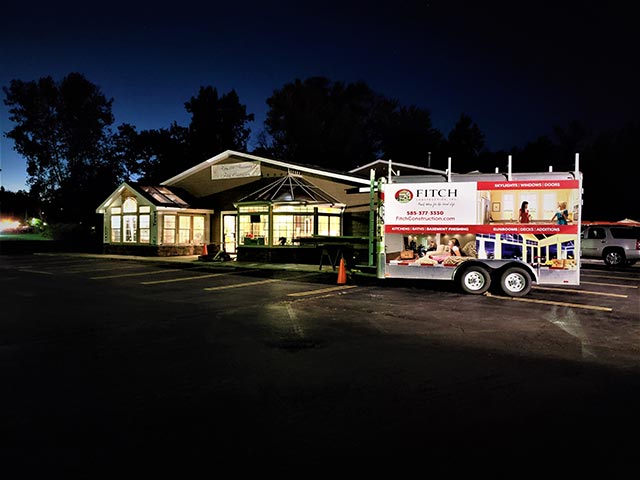 Our History
Our slogan is "Fresh Ideas for the Good Life!" We understand that what we design and build for you on your Home must be of the very best value, serve your Lifestyle and just look fantastic on your Home. Our goal - from the 1st phone call, to our digital design drawings, to our Production and Carpentry process - is for our Clients to have a Wow Experience.
The Fitch family has been involved in residential and light commercial construction for over four generations, starting with David's great, great grandfather. There were many homes built by the Fitch family in the early 1900's, including the Park Avenue area. Rochester Institute of Technology (R.I.T.) worked with David's uncle, Robert Fitch, for many years, improving both the downtown campus and many projects at the Henrietta campus.
When you choose Fitch Construction, you are working with a dynamic group of skilled Craftsmen who are a part of our family and are committed to their craft. We've completed projects with Wegman's Organic Farm, Hillside Children's Center, UPS, the Penfield Community Center, and many homeowners throughout the Western New York.
The Fitch team takes great pride in creating unique spaces of any size, for any function and strives to provide outstanding quality customer service.
Authorized Dealer
Fitch Construction is an authorized dealer and factory-trained installers for: