Basement Finishing Planning
You're thinking of finishing off part of your Basement and you know that done right, it will take some great ideas and planning.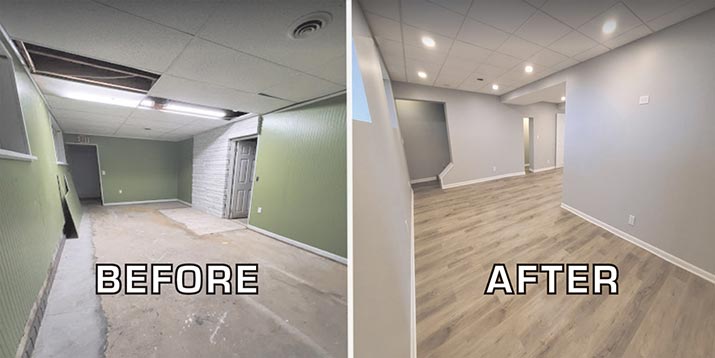 The challenge for most basement contractors is they are limited to materials used primarily for finishing the first and second levels of a house. Higher levels of moisture settle into the floors, walls, and ceiling of a basement, creating damage and potential health hazards for your family. Furthermore, moisture may extend into the first floor your home. Over the years the Fitch team has successfully removed materials in moisture damaged basements and replaced them with quality, moisture resistant products.
What would you prefer in your basement?
There are many different options on how to use your basement including a family room, movie theater, game room, playroom, in-law suite, exercise room, office, extra bedroom...the uses are endless. Our design consultants will provide guidance in how to best utilize the space and which Fitch Construction products including ceiling tiles, walls, flooring, windows, lighting, and dehumidifiers will integrate best.
Time to look at some options!
Now comes the fun part! We take measurements of your basement, load them into a Computer Aided Design (CAD) program called Basement Vision, and then create a floor plan. Within a few minutes, you will see a visual concept of your new basement with options for any layout.
As you see the project come to life, we explain the details of the initial design, provide options to consider, discuss the construction process, as well as the timing and budget. Our goal is to build excitement and provide immediate peace of mind for you.
AquaGuard: Water-resistant, Durable, Stylish, and Revolutionary
Fitch is your authorized AquaGuard flooring dealer. Exclusive to Floor & Decor, AquaGuard Flooring is water-resistant flooring that can give you the warmth of hardwood for every room and every grade level in your home. Not only does AquaGuard give you the value of durable flooring without sacrificing style, but it's available in laminate, bamboo, and real engineered hardwood so you can pick the floors that will be right for your home. Each flooring option can be used in kitchens, full bathrooms, mudrooms, and even basements—and each option has outstanding water-resistance.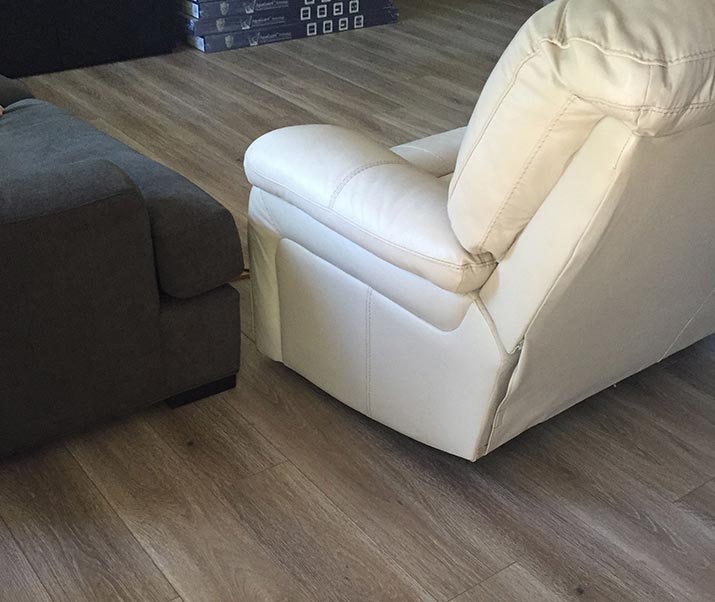 Benefits of Fitch Construction Products
- Basement wall insulation has the highest rating for insulation quality (R-13)
- Save Energy = Save Money
- Extra living space adds increased comfort
- Adds value to your home
- Refinished basements promote a healthier environment, because…

- Ceilings will not mold or sag
- Floors that are waterproof are as attractive as they are functional. Also designed to resist mold, your basement floors are available in attractive hardwood finish or can be carpeted
Are the materials covered by a warranty?
Fitch Construction provides a fifty (50) year warranty on all of their materials used to create your new room. Our Fitch Design Consultant basement specialist can provide you more details during your meeting.
100% of the construction process is managed by Fitch Construction.
Often homeowners worry about their basement remodeling project. At Fitch Construction & Design Studio, we are responsible for the entire process from the design through the final day of work. With our team of more than twenty talented staff, there is an expectation to supply quality materials and craftsmanship, which we have provided in the community for the last 30 years.
Is the work covered by a warranty?
In New York State, home improvement law requires contractors to provide a one (1) year labor warranty on all work. At Fitch Design Studio, we believe in the quality of our work. We provide a five (5) year limited work warranty on all completed projects.
What are some ways we can pay for this project?
At the Fitch Design Studio, we will work with you to identify the best ways to fund your project. Please visit our financing section for more information.
Are you ready to take the next step?
We would like the opportunity to sit down, discuss and turn your dream of a finished basement into a reality. Call us at (585) 377-3330 or submit your information request form to set up an appointment.
"Incredible Basement Finishing Solution! Fitch's work crews were friendly and professional. We now use our basement every day, but especially when our extended family comes over" - Canandaigua, NY
"We are very happy with our lower level now, and it's beautiful...Our favorite 'go-to' place any time of the year.!" - Fairport, NY
*All trademarks are the property of their respective owners.