The kitchen is the heart of your home - and what better way to show your house some love than a kitchen remodel.
Kitchen remodeling can be an exciting adventure for homeowners, when it's done right!
A professional kitchen remodel can change the entire atmosphere of a home, make mealtimes easier, and give your property a more modern look. A new kitchen can also raise the resale price of your home significantly.
Complete kitchen remodels can be a complex job - one-size doesn't fit all when it comes to kitchen refits. Even skilled designers can miss critical details when remodeling!
However, there are ways you can keep costly mistakes to a minimum during your renovation, so you can get the perfect kitchen for your home on-time and on-budget.
Here are our top 7 tips for remodeling your kitchen.
1. Set up a temporary kitchen in the meantime
Living without a fully-functioning kitchen (or no kitchen at all) can be a real pain, especially if you have young kids. It can be an absolute nightmare trying to organize school lunches or prepare evening dinners - even making yourself a morning cup of coffee can be a real hassle!
To get through the mess, clutter and general untidiness, try setting up a temporary kitchen by moving the essential appliances into another room. Put your refrigerator, microwave, and any other necessary appliances in a spare room so you can still run as close to normal as possible.
You can also cook dinners outdoors if you own a grill. We wouldn't advise remodeling during the wintertime if you live in a cold area anyway. Besides, hot weather means enjoying family barbecues while you wait for your brand-new kitchen to be ready.
What do you do when you need to wash up?
Washing your plates in the bathtub is an option - but it's not much fun. So for the sake of your sanity, load up on some paper plates and bamboo utensils for a little while!
2. Make a schedule - and stick to it
There's a long list of things to do when it comes to remodeling a kitchen. Before you start tearing out your old cabinets and demolishing your tiles take a moment to sit down and think about what needs to be done.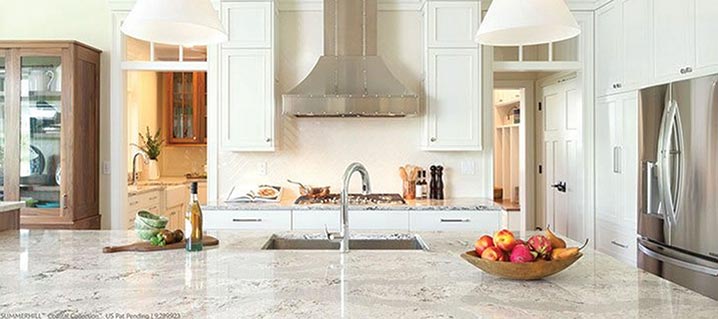 Make sure all your appliances, plumbing fixtures, and any other major kitchen components are on hand before you start. This will help you if you ever need to confirm any measurement to ensure that your kitchen fits together perfectly.
Next, you should schedule the:
Plumber
Electrician
Tile-setter
Any other subcontractor you need
Schedule them well in advance so that you'll be able to have the perfect team to carefully choreograph your kitchen's design. Plus, trying to get somebody last minute can be a real headache - and you'll already have so much to worry about.
A remodel can be a minefield on occasion but with the proper plan, you'll be able to avoid any potential pitfalls during your renovation. Stick to your plan too so you can remain on track and get your kitchen finished on time.
When you choose Fitch Construction for your kitchen remodel, we take care of all these details for you.
3. Put function first
Always think about efficiency before you get to all the fancy additions to your kitchen. Think about how you want to use your kitchen space and what appliances are absolutely necessary for your kitchen.
If you don't build your new kitchen with function first, you might end up making it difficult to cook and clean in. You might want your kitchen feeling open and inviting, but nobody wants to walk 5 minutes to get from your fridge to the stove top.
Keep the working triangle in mind when placing your appliances. These are the three points of a kitchen that you visit the most when cooking. The sink, oven, and fridge should be at an equal distance so that your cooking experience is an easy and enjoyable one.
4. Choose your appliances and your sink early
Appliances really impact the layout of your kitchen. This is why it's important to buy your new appliances early on in the remodeling process so you can measure them in advance.
By having everything measured out already you'll be able to easily build the perfect kitchen around them and slot them in neatly when the time comes.
Your sink is also something that should be bought well ahead of time. This will let you sort out all the plumbing needed for your kitchen as soon as possible.
5. Choose the perfect island
Kitchen islands are a must-have for any kitchen remodel but you have to be careful when choosing them.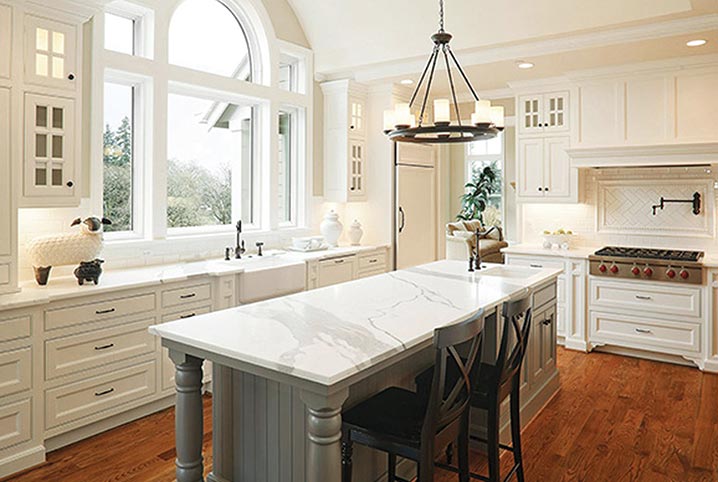 If you have an oversized island or one that is positioned poorly you'll end up blocking off the traffic and workflow in your kitchen.
Allow enough space on all sides of the island so that you can easily open any cabinet door and go about your tasks without difficulty.
6. Focus on your lighting
You spend a lot of time in your kitchen - don't underestimate the power of getting the lighting right. Having no glare and no shadows while you prepare the dinner or cook up breakfast isn't up for debate - you need to see what you're cooking!
Install some recessed ceiling fixtures to provide great overall light to your kitchen. In your kitchen work areas, install some under-cabinet task lights or install a nice pendant or chandelier over your island to really add some character.
7. Make one outlandish design choice (only one!)
Give your kitchen some personality by adding some flair to your design. The key to great design that lasts for years? Don't overdo it.
It's easy to get excited about all the design features you can have - just don't add too much pizzazz and take away from the practicality of your kitchen. You don't want your kitchen to turn into a circus with too many colors, features, add-ons, and countertop items. Keep it simple, keep it functional.
For example, if you have a beautiful French Mediterranean-style tile floor then go for simple cabinets and countertops - it'll highlight the floor even more.
Well, we hope our blog has helped you figure out exactly what you need for your kitchen remodel!
If you're ready to start remodeling your kitchen then the team here at Fitch Construction is ready to help (with plenty more insider tips to help keep the project on-track).
To help you plan a kitchen remodeling project, the Fitch Design Studio will listen to your vision, explain the details of the building process, and we are committed to making your dream kitchen a reality, while adding value to your home.
We offer professional kitchen remodeling services to homeowners in Rochester, Buffalo, and the Finger Lakes areas.
If you've come up with the perfect idea for your kitchen and want to get the project started then give us a call and we'll help you create the kitchen of your dreams.